WELLNESS CENTER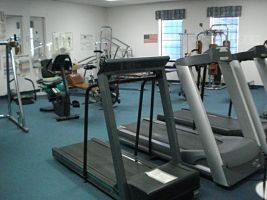 The Lindsborg Community Hospital Wellness Center offers exercise facilities for young and old alike at no charge. Our free Wellness Center is equipped with a wonderful array of exercise equipment to help you maintain your health and fitness. Equipment includes exercise bikes, treadmills, an elliptical, universal weights and a Precor Multi-station Tower. Changing rooms and showers are available.
Participants between ages 12-14 must be accompanied by an adult when exercising. All participants must sign the "Waiver and Release" prior to working out for the first time - even if you have previously been a member of the Wellness Center. Minors must have the signature of a parent or guardian.
Guests are asked to please sign in on the clipboard with your name, time and date. The Wellness Center is located at 605 W. Lincoln in Lindsborg.
Hours are:
Monday - Friday 6am-10pm (closed to the public Mon-Wed-Fri 1-3pm).
Saturday, Sunday & Holidays, 8am-10pm.