Family Health Care Clinic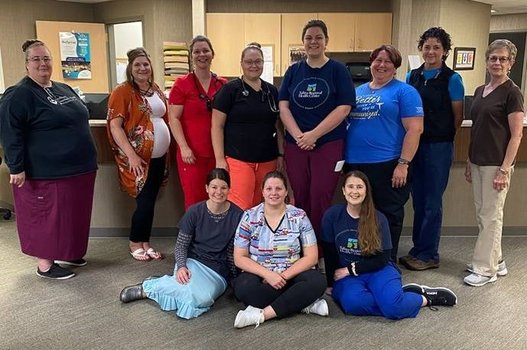 Welcome to the Family Health Care Clinic, where we are focused on the goal to provide quality medical care for you and your family - young and old - in a personal, professional way.
Fourteen exam rooms are staffed by our full-time medical staff – Wendy Dinkel, DO; Benjamin Dolezal, MD; Luke Rosebraugh, MD; and Kelsey Swisher, PA-C; and Raegan Chapman, PA-C. All of our providers specialize in Family Medicine. All of our physicians are accepting new patients. Greg Lindholm, PA, MPH and Jade Banning, PA-C, see patients as the Lifestyle Health team part time and do not provide primary care.
Drs. Dolezal, Dinkel, and Rosebraugh are board certified in Family Medicine. Kelsey Swisher also serves as primary care provider, and Raegan Chapman fills in as a relief provider. The nursing team and business and registration staffs work with the medical providers to round out the essential team you can depend upon.
We are accepting new patients at the Family Health Care Clinic. Same day appointments may be available. If you are an established patient who has enrolled in our clinic patient portal, you may schedule your own appointment. (More information on our portal can be found on the "Portals" link on our home page).
When hospitalization is necessary, your healthcare team will continue to provide for you. Your care will be directed by a blend of our own Lindsborg Community Hospital physicians with additional weekend coverage from our Emergency Department team.
CLINIC RECEPTION OFFICE HOURS FOR SCHEDULING AND CUSTOMER SERVICE:
785-227-3371
Monday - Friday: 8am - 5pm
Additional Info: We are closed on major holidays.
CLINIC NEWS
SCHOOL SPORTS PHYSICALS
Quick, affordable, easy school physicals are available. Contact the Family Health Care Clinic to schedule your appointment at 785-227-3371 OR use our Urgent Care Clinic and walk in without an appointment, Monday-Friday 8-6 and 10-1 on weekends.
Important Information on Sports Physicals
Appointments can be made for the following:
Acute care: sudden onset illness
Routine exams
DOT exam by certified examiner
Illness, sore throats, cold and flu symptoms
High cholesterol
Blood sugar problems
Treatment for skin rashes or warts
Well-woman exams
Worker's Compensation care
Return to work physical exams
School, sports and workplace physical exams
Lifestyle Health:
FORMS