OFFERING DAILY URGENT CARE!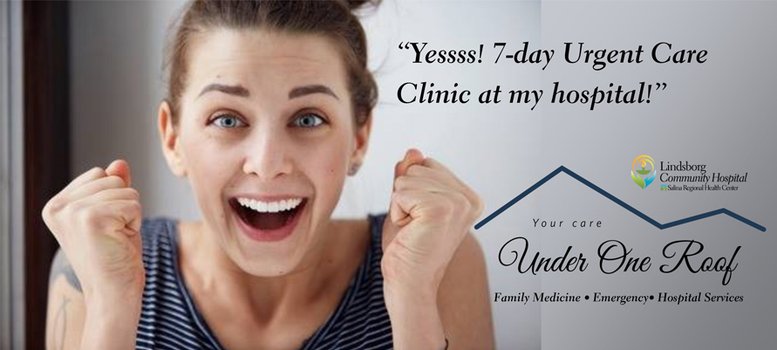 Lindsborg Community Hospital offers an Urgent Care Clinic to provide convenient access to care to the people of the Smoky Valley communities. An Urgent Care Clinic is defined as the services dedicated to the delivery of non-emergency care. Urgent care is offered on an unscheduled, walk-in basis, and is for the treatment of patients with an injury or illness that requires immediate care, but is not serious enough to necessitate a visit to the ER.

Sports injuries, minor cuts or burns, muscle sprains or strain, stomachache, nausea, headache, dizziness, and ear, throat or nose infections are typical reasons people seek urgent care. Urgent Care is staffed 7 days a week and is equipped to treat some wounds requiring sutures, setting some simple fractures, and procedures beyond what is offered in our Family Health Care Clinic.

Emergency room services are available 24/7. Hours are Monday-Friday from 8am – 5:15pm and 10am – 1pm on weekends. No appointments needed, no appointments made. You do not need to be an established patient of the Family Health Care Clinic to use our Urgent Care Clinic. If you want walk-in convenience for flu shots, they are available only in Urgent Care. Urgent Care is CLOSED on Thanksgiving and Christmas.

The LCH Urgent Care Clinic is staffed by our own providers and nursing staff.

Please enter through the main hospital entrance and proceed to the registration desk. Know your insurance! Most insurers recognize urgent care as a service for non-emergent needs, and rates may be higher than a Clinic visit but less than an emergency visit. A co-pay may be required at registration.

Please Remember ... In an emergency situation, please call 9-1-1 or go to the nearest emergency room.