Smoky Valley Cares Fund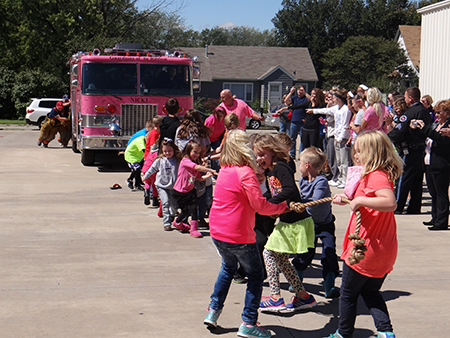 Battle of the Buses
The first "Battle of the Buses" was September 10, 2011. A huge success, 100% of the proceeds established what is now known as the Smoky Valley Cares Fund. (formerly the Pink Fund)
"Pull a bus. Save a life!" Was the call that went out in August 2011. Fifteen teams competed in a bus pulling contest in the Scott's Hometown Foods parking lot. Combined with the success of Blinged Up Bras, on display at Small World Gallery for the week preceding the event, a 10 mile bike ride, a hamburger fry sponsored by Brick House Grill and Scott's Hometown Foods and many, many generous donations, an assistance fund was born! Over $6000 was raised by the three events and t-shirt sales.
Developed to pay for screening mammography and PSA (prostate specific antigen) cancer screening tests, the Smoky Valley Cares Fund will assist individuals who don't qualify for other financial assistance programs. Screening can help doctors find and treat some types of cancer early. Generally, cancer treatment is more effective when the disease is found early.
In 2012, we announced the expansion of the fund to cover second views, diagnostic mammograms and breast sonography.
Priority for assistance will be given to people who reside in the Smoky Valley service area and/or seek regular medical care with Lindsborg Community Hospital and FHCC providers.
For additional information on how to apply, call 785-227-3308 and ask for assistance to apply for the Smoky Valley Cares Fund, a fund created for people in need by people that care.