SKILLED NURSING & SWING BED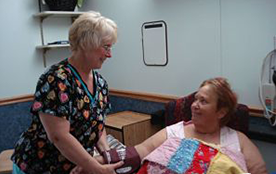 Lindsborg Community Hospital is committed to recovery and care designed for patients no longer requiring acute care hospitalization, but still in need of additional skilled care before going home. LCH provides the transitional care for patients who need assistance in gaining maximum independence following an illness or injury.
We incorporate skilled nursing with therapy to help our patients meet their fullest potential prior to leaving our facility. Swing bed patients receive specialized care and recuperate in a caring, personalized environment.
LCH skilled nursing will accept patients with a variety of skilled needs:
Physical Therapy
Occupational Therapy
Speech Therapy
Wound Care
IV Therapy and multiple intramuscular injections per day
Skilled observation and monitoring for a condition treated in acute care
Initial phase of instruction in the use of medications and treatments
Initial teaching of a regimen involving respiratory therapy and oxygen
Management of nutritional and/or hydration including initiation of tube feedings
Intensive bowel and bladder retraining and/or initial training in self care of an ostomy
Daily lab