Radiology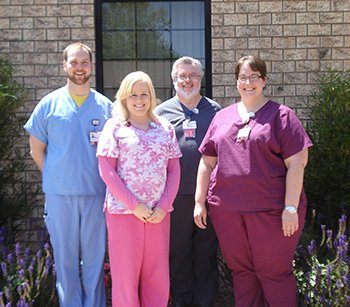 The Lindsborg Community Hospital Radiology Department offers state-of-the-art services for emergency, inpatient and outpatient care. These services provide valuable information for patients and medical providers. The Radiology staff is on-call 24 hours a day, 365 days a year. Radiology exams are scheduled weekdays and performed as ordered by a physician, walk-ins are welcome for many exams. To schedule an exam, call 785-227-3308, ext 185.
Radiology staff members, from left to right: Michael Mace, RT(R); Department Director Jodie Miller, RT(R), RDMS, RVT, RDCS; Jerry Hall, RT(R)(CT); Trista Goreham, RT(R)(CT).
Just a few of the very positive comments recorded from recent patient satisfaction surveys:
"We got in and out. I like that!"..."staff have always been efficient and capable"..."an A+ for all!"
LCH Radiology Department offers the following imaging exams that are performed by qualified, board registered and Kansas licensed technologists:
CT (CAT) SCAN
Lindsborg Community Hospital offers Computed Tomography or CAT scan, an x-ray examination using computer technology to create cross-section images of structures within the human body. The LCH CT department received a major upgrade in August, 2011 when a new 16-slice CT machine was installed. While similar to the previous CT device, the patient experience and the imaging results for the physicians are greatly improved. This new equipment will take up to 16 slices, or images, in a single rotation to provide impressive, detailed diagnostic images in seconds. By viewing these sections in sequence, the radiologist is able to create a three dimensional image of the body part being examined.
ULTRASOUND & NON-INVASIVE VASCULAR ULTRASOUND
Ultrasound is also known as sonography. This is a diagnostic technology that uses high frequency sound waves, above the range of human hearing, to produce images of structures inside the body. Ultrasound produces excellent images of organs that are soft-tissue or fluid-filled. Sonography is less effective in examining air-filled organs and bones.
Non-invasive vascular ultrasound uses sound waves to produce images of the veins and arteries to check for clot formation or other vessel abnormalities.
ECHOCARDIOGRAMS
Echocardiograms are ultrasound examinations of the heart. "Echoes" allow the technologist to measure heart wall thickness, chamber size, valve function and blood flow velocities.
DIAGNOSTIC X-RAY
Radiology/x-ray is a diagnostic testing procedure which gathers information about the internal structures of the body by using ionizing radiation. X-ray imaging is a painless way to obtain detailed information that helps your doctor assess your medical condition.
3D MAMMOGRAPHY
3D mammography is proven to provide better, earlier breast cancer detection and reduce unnecessary callbacks by up to 40%. Benefitting women of all ages and breast densities, it can detect 41% more invasive breast cancers. 3d tomosynthesis allows better evaluation, because doctors can examine breast tissue layer by layer instead of viewing all of the complexities of breast tissue in a flat 2D image. Lindsborg Community Hospital offers 3D mammography through a mobile unit. Mammogram examinations are available twice monthly.
BONE DENSITY TESTING
Bone density testing is performed by using Dual Energy X-Ray Absorptiometry (DEXA) to determine a patient's current bone strength. This examination is achieved by using a small amount of ionizing radiation. This test can help to detect those who are at risk for osteoporosis. Detection can allow for treatment that could slow or prevent osteoporosis from occurring.
Lindsborg Community Hospital offers bone density testing through a mobile unit. This state-of-the-art technology is available in conjunction with mammography at least twice monthly.
To schedule any of the examinations listed above, call 785-227-3308, ext 231. Our radiology staff members are here to help you.
All forms of insurance are accepted, but you may want to consult with your insurance carrier to determine if pre-authorization is required or if there is a limit on the number of exams allowed and if the service is a covered benefit.